The Fake Announcement
Edit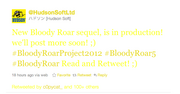 On October 1st, 2011
Hudson Soft
announces via Twitter the debut of production of Bloody Roar 5.
Only three days later, the ruse is exposed when the account tweeted what was supposed to be the first image, but was actually an image stating "You all been trolled!", revealing it was a fake twitter account.
Project abandoned as Hudson close U.S. offices
Edit
On February 9, 2011, It was revealed that a new Bloody Roar sequel was in production, but after Hudson Entertainment closed down, it was canceled. Waiting for sponsors to promote their new game for the next generation consoles but lacking financial push and marketing.