"Fight like an animal"
— Official tagline
Bloody Roar: Primal Fury, also known as Bloody Roar Extreme in Japan, is a brawler video game developed by Eighting in 2002. It is a side story set between Bloody Roar 3 and 4.
It features a new artistic direction, in particular in the design of the fighters which done away the urban style from previous installments for modern and sporty looks.
"During the Age of Feuding between humans and Zoanthropes, a new kingdom was born.
Founded upon and dream of peace and equality, for both, the new land attracted scores of Zoanthropes from far and wide. However, the kingdom was young, and heavily relied upon its Zoanthrope army for security and on its special brigade of Zoanthrope mercenaries for income. Even more troublesome for the infant nation were rumors of cruel experiments being carried out on Zoanthropes to uncover the secret behing their ability to transform into fighting beasts. Though nearly everyone, both Zoanthrope and human alike, strongly opposed these experiments, no one could prove that they were actually taking place, much less who was responsible for them.
In an effort to bring the nation together and show off the power of their Zoanthrope army and mercenary brigade, the kingdom decided to sponsor the ultimate Zoanthrope fighting tournament. The winner would not only earn the title "Zoanthrope Champion," but also take home a handsome cash prize. If only the participants knew what was really awaiting them..."
[...]
Game Features
Edit
Arcade
Versus
Time Attack
Survival
Team Battle
VS Team Battle
Training
Com Battle
Movie Player
Extra Option
Option
Characters & Locations
Edit
Bloody Roar : Extreme
Edit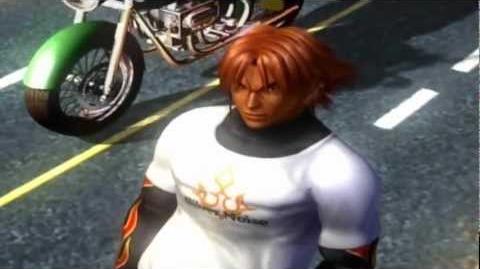 In 2003, Eighting/Hudson ports Bloody Roar: Primal Fury on X-box, with adjustments : Updated graphic engine, CGI opening and ending and a new character for the Western market : Fang the Wolf.
In this Version, Cronos and Ganesha are accessible since the very beginning of the game.

Reception
Edit
Bloody Roar : Primal Fury received the most positive reviews for the series from the critics. On Metacritic , Primal Fury holds a rating of 75%, based on 27 reviews.
Primal Fury has sold 180 000 copies around the world and Extreme 40 000 copies. His biggest competitor around it release date, Tekken 4, has sold 3.44 millions of copies.
Matt Casamissa from IGN wrote that Primal Fury is " a lot of fun to play -- tight control mixed with a fair amount of moves and combos (but not enough), and then the strategic element of beast transformations, proves very addictive." He congrated the visual updates but, like he said : "still not on the level of Soul Calibur 2 or Dead or Alive 3." He also specifies that compared to all the fighting games ever released on Nintendo 64 is a superior entry and a good start for the Nintendo GameCube.
Extrem was less well-welcomed with a rating of 61% based on 22 reviews on Metacritic. The game suffers of the comparison with other fighting games aviable on X-box like said on XboxAddict "This is a great game for the younger crowd. How about working on a serious fighting title now? You know, for those of us who enjoy more involved fighting games?".
Promotoin
Edit
[...]
Packaging Artwork
Edit
Official Artworks
Edit
See: Bloody Roar : Primal Fury/Extreme (official artwork)
Unlockables
Edit
Ganesha, Indian Palace Stage - Beat the arcade mode once.
Cronos, Evil Laboratory Stage, Com Battle - Beat the arcade mode twice.
Kohryu - Get to Stage 5 in arcade mode without continuing. Then you'll face him. Beat the rest of Arcade Mode.
Uranus, Chaos Laboratory Stad - Beat Uranus in Survival Mode. She's always the 16th opponent.
Yugo's Fang costume - Beat arcade mode with All characters (Uranus and Kohryu included). After you're done go to the Character selection screen on Yugo and changes the costume until you get him.
Kid mode (Short body, Big head and arms) - Beat the arcade mode 3 times.
Big Head mode - Beat the arcade mode 4 times.
Big Arms mode - Beat the arcade mode 5 times.
No Wall mode - Beat the arcade mode 6 times.
Weak Wall mode - Beat the arcade mode 7 times.
Breakable walls in the Final Round - Beat the arcade mode 8 times.
Slow motion mode - Beat the arcade mode 9 times.
Speedy Game mode - Beat the arcade mode 10 times.
Though Bloody Roar : Primal Fury on Nintendo Gamecube is compatible with the console Nintendo Wii. Bloody Roar Extreme on X-box isn't compatible with the X-box 360, unless installed with Backward compatibility.
The Fang outfit for Yugo was not included in the Western Nintendo GameCube release though he was included in the Japanese version, and also the Western and Japanese port on the Xbox. 
It was the first game of the series to release in the North American market before the Japanese one and to not have an arcade version.
In April 2001, the Bloody Roar Official Japanese site launch a poll where fans were asked what Beast form they like to see. Among the top ten result number 4 was a Penguin and number 7 an Elephant. The poll can be assimilated to the origin of Cronos and Ganesha. Top ten : a Dragon, a Bird, the Four Symbol (Azure Dragon, Vermilion Bird, White Tiger & Black Turtle), a Penguin, a Fox, a Bear, an Elephant (or a Mammoth), a Kangaroo, a Dinosaur (Tyrannosaurus), a Snake
External Links
Edit
Ad blocker interference detected!
Wikia is a free-to-use site that makes money from advertising. We have a modified experience for viewers using ad blockers

Wikia is not accessible if you've made further modifications. Remove the custom ad blocker rule(s) and the page will load as expected.